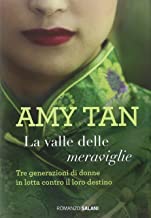 La Valle Delle Meraviglie
di Amy Tan

Prezzo cartaceo: € 18,60

Prezzo E-Book: € 5,99
Titolo Originale:
The Valley of Amazement
Editore: Salani
Pagine: 713
Genere: Narrativa Moderna
Violet è cresciuta serena nella Shanghai dei primi del Novecento, nel mondo ovattato ed elegante di Sentiero di Giada, la raffinata casa di piacere gestita da sua madre Lulu, un'americana dal misterioso passato. Gelosa della donna e delle attenzioni che lei dedica ai suoi ospiti, Violet le rimprovera soprattutto di non volerle rivelare chi è suo padre. Ma quando la sua vita verrà spezzata dall'inganno dell'ultimo amante di Lulu, Violet, capirà tante cose, compresi gli infiniti errori che si possono compiere per amore... Sospesa tra l'Estremo Oriente e l'America, tra le ragioni del cuore e le scelte della mente, una storia che ci fa rivivere l'atmosfera della Shanghai al momento della caduta della dinastia Qing e il rapporto, eterno, complesso e affascinatile tra una madre e una figlia, alle prese con il desiderio, l'inganno, la forza e l'ostinazione dell'amore.

La giovane Violet vive in una casa di piacere nel cuore di Shangai: Sentiero di Giada è il luogo in cui l'Oriente incontra l'Occidente. Sua mamma è americana, la giovane Lulu che ha saputo creare un impero con cui mantenere lei e sua figlia: insieme alle cortigiane Violet vive una vita tra lusso e mistero che la segnerà per gli anni a venire. Quando nella casa arriverà un amante misterioso della madre per lei la vita all'improvviso cambierà strada e si ritroverà a dover interpretare il ruolo lei stessa di una cortigiana. Il romanzo propone al lettore una Shangai di inizio XX Secolo dove i misteri e le case di piacere erano la normalità: l'autrice si è documentata e propone al lettore una storia di amore e di dolore con qualche nozione storica. La figura di Violet è quanto mai contrastante: lei stessa non sa quali siano le proprie origini, chi era suo padre? Era davvero cinese come ha sempre sentito dire dalle cortigiane della sua casa? E lei quindi a quale mondo appartiene? Dapprima cresciuta nella banbagia nel Sentiero di Giada dove poteva fare tutto quello che voleva come studiare e giocare con la sua gattina si ritroverà poi catapultata in un mondo che non sente davvero suo in cui ci sono regole da rispettare e antichi cerimoniali da osservare. Piacevole la lettura nonostante la mole, unica pecca sono certe parti poco approfondite: sono amante della cultura orientale e avrei avuto piacere di leggere approfondimenti sulle diverse cerimonie. La protagonista è assolutamente efficace, un'anima divisa tra due mondi che cerca disperatamente di appartenere a qualcuno e che dovrà imparare ad appartenere in primo luogo a sè stessa. Un bel romanzo, consigliato.
Durata totale della lettura:
tre giorni
Bevanda consigliata:
Tè alla cannella
Formato consigliato: EBook
Età di lettura consigliata: dai 16 anni