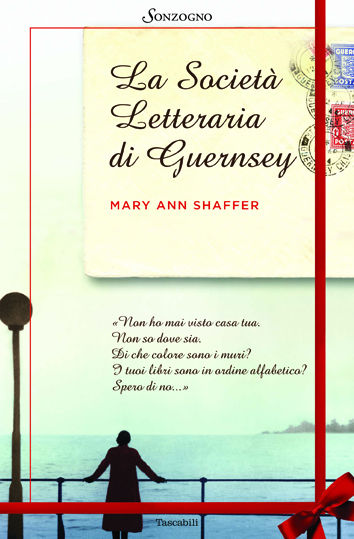 La società letteraria di Guernsey
Mary Ann Shaffer
Prezzo di copertina:
€ 9,00
Editore:
Sonzogno
Formato:
Brossura
Pagine:
336
Lingua:
Italiano
Titolo originale:
The Guersney Literary Society
Lingua originale:
Inglese
Traduttore:
Scocchera G. e Rinaldi E.
Generi:
Narrativa moderna, storico, epistolare
A marzo inizieranno le riprese di "The Guernsey Literary and Potato Peel Pie Society", nuova avventura cinematografica di Branagh regista. Kate Winslet sarà la protagonista.
Un inno al piacere della lettura. Un'indimenticabile storia d'amore, di coraggio e amicizia in un romanzo senza tempo
Londra, 1946. Juliet Ashton, giovane scrittrice di successo, è alla ricerca di un soggetto per il suo nuovo romanzo in una città appena uscita dalla guerra ma piena di speranze per il futuro.
Inaspettato, lo spunto arriva da Dawsey Adams, fattore dell'isola di Guernsey e membro della Società Letteraria nata per sfuggire al coprifuoco tedesco. Dawsey ha trovato l'indirizzo di Luliet su un vecchio libro usato e i due iniziano una ditta corrispondenza.
Affascinata dalle straordinarie storie dei membri della Società e dal loro amore per i libri, che li ha salvati dagli orrori del conflitto, Juliet decide di partire per l'isola. E proprio a Guernsey troverà non solo l'ispirazione, ma anche qualcosa che cambierà per sempre la sua vita.
Gennaio 1946. Il mondo sta uscendo a fatica dall'incubo della Seconda guerra mondiale, e a Londra la scrittrice Juliet Ashton cerca invano l'ispirazione per il suo nuovo romanzo, dopo il successo del primo libro. All'improvviso, Juliet riceve la lettera di un abitante dell'isola di Guernsey, nella Manica, che ha trovato il suo indirizzo su un vecchio libro usato. Fra i due inizia una fitta corrispondenza, e Juliet scopre che sull'isola, occupata per cinque anni dai tedeschi era nato un circolo di lettura (tre isolani sorpresi dal coprifuoco avevano dichiarato di aver perso la nozione del tempo a parlare di libri). La Società era diventata ben presto la ragione della loro vita, l'unico modo per sfuggire, attraverso il piacere che solo i grandi libri sanno offrire, agli orrori della guerra. A poco a poco Juliet verrà assorbita dalle storie degli abitandi di Guernsey, dalle loro vite straordinarie, dai drammi che hanno vissuto. Deciderà di raggiungerli, e a Guernsey troverà non solo l'ispirazione per il suo lavoro, ma qualcosa che cambierà per sempre il corso della sua vita. Un omaggio al potere dei libri e un inno al piacere della lettura, ma anche una storia di amicizia, di coraggio e d'amore.
La Seconda Guerra Mondiale ha lasciato segni indelebili visibili nelle città distrutte ma anche invisibili nell'animo delle persone che l'hanno vissuta da semplici cittadini. Juliet ha trentaquattro anni e ha seguito la guerra con grande attenzione mentre riportava gli eventi all'interno del suo libro. Per caso un giorno come tanti altri, Juliet riceve una lettera dall'isola di Guersney e come per magia inizierà per lei e per gli abitanti del posto un'amicizia pura e meravigliosa. Un libro scritto sotto forma epistolare che sa coinvolgere il lettore in una rievocazione delle dominazioni naziste viste attraverso gli occhi dei poveri abitanti dell'isola. Molti sono i protagonisti che popolano questo romanzo e li conosciamo attraverso le loro appasionanti lettere che parlano di coraggio e di amore nella sua forma più pura. Dopo ben 5 anni di dominazione nazista questo paesino ha voglia di rinascere e le persone hanno bisogno di speranza e di sorrisi dopo tante lacrime e oppressione. Juliet, la protagonista principale, è una scrittrice alla ricerca di un'idea nuova per il suo romanzo quando si imbatterà nella Società Letteraria "Torta di Patate" di Guersney. Grazie al destino riuscirà a trovare la sua strada sia come scrittrice che come donna e grazie alle persone meravigliose che popolano l'Isola capirà il vero senso della vita. In un turbinio di eventi e di colpi di scena questo romanzo senza tempo vi farà commuovere e sospirare, ma soprattutto permetterà ai suoi protagonisti di rimanervi nel cuore e nella mente. Un romanzo che va letto e assaporato, lo consiglio a tutti non ve ne pentirete.

Durata della lettura: due giorni
Bevanda consigliata: cioccolata calda
Età di lettura consigliata: dai 15 anni