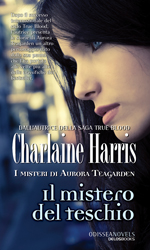 Il Mistero del Teschio
Prezzo di copertina: € 12,66
Editore: 238
Formato: Brossura
Lingua: Italiano
Lingua originale: Inglese
Titolo originale: A Bone to Pick
Traduzione: A. Guarnieri
Aurora Teagarden, che nel precedente romanzo di questo ciclo ("Real Murders: il club dei delitti irrisolti") ha fatto il suo strepitoso debutto, trasformandosi da bibliotecaria in investigatore dilettante, si ritrova improvvisamente a essere molto ricca quando un'anziana parente, Jane Engle, muore e le lascia il proprio patrimonio. Quando va a prendere possesso della casa ereditata, Aurora scopre che il posto è stato messo a soqquadro, e frugando in giro scopre un macabro oggetto sfuggito alle ricerche dell'intruso: un teschio umano, sfondato, nascosto in una cassapanca astutamente mascherata da sedile, sotto una finestra. Aurora comincia allora a scavare nella vita dei vicini, mascherando le proprie indagini e scopre che nel corso degli anni nel vicinato sono scomparsi due uomini.
Dopo gli eventi del primo libro e dopo che tutti i membri del famoso Real Murders sono stati "vittime" inconsapevoli di una coppia di serial killer, Roe e gli altri membri del club hanno deciso di scioglierlo. Le giornate della nostra eroina non sono delle migliori, il club è chiuso e il suo lavoro in biblioteca è stato notevolmente ridotto, per non parlare poi dei tre matrimoni che hanno caratterizzato la sua "estate": diciamolo proprio è stato un anno davvero difficile. Come tutte le donne protagoniste dei suoi romanzi però anche Roe sa come rimboccarsi le maniche e volente o nolente si ritroverà di nuovo a dover far luce su un nuovo mistero. Secondo volume di otto della serie di Aurora, "il mistero del teschio" è un giallo non troppo giallo ma quasi rosa. Le vicende sono quasi tutte incentrate sulla vita sentimentale e non della protagonista e il mistero rimane in secondo piano. La struttura del romanzo e le doti dell'autrice rendono comunque la lettura piacevole che deve essere catalogata come un romanzo giallo/rosa e non come un thriller. I misteri ci sono, l'assassino c'è ma l'interesse di Roe è tutto incentrato su altri problemi: una nuova casa, una nuova eredità e la domanda cosa devo fare della mia vita? La Harris in questo romanzo punta un riflettore sulle vicende della protagonista e ne analizza meglio il carattere e gli intenti. Se avete già letto la serie di Sookie sapete meglio di me che l'autrice cade spesso in questo tipo di "tranello" e inframezza una buona serie con romanzi descrittivi che non aggiungono nulla alla storia e lasciano anzi il lettore in dubbio sul perseguire con la serie o meno. Ho trovato molto più completa la serie di Harper Connelly, forse perchè i volumi sono meno e l'autrice è stata costretta a concentrare tutte le idee senza potersi distrarre. Tuttavia questo volume rimane una lettura piacevole ed interessante che può intrattenere senza troppe pretese un lettore che ha voglia di un libro senza troppe pretese. Attendo con ansia il prossimo volume e spero che la povera Roe riceva il giusto riscatto attraverso un romanzo veramente giallo come il primo.
Durata della lettura:
due giorni
Bevanda consigliata:
succo al lampone
Età di lettura consigliata:
dai 18 anni
"Un teschio nascosto e un altro mistero da risolvere per Roe!"
Serie Aurora Teagarden
Real Murders (1990) - Real Murder Il club dei delitti irrisolti
A Bone to Pick (1992) - Il Mistero del teschio
Three Bedrooms, One Corpse (1994)
The Julius House (1995)
Dead Over Heels (1996)
A Fool And His Honey
Last Scene Alive (2002)
Poppy Done to Death (2003)
Charlaine Harris
è nata nel 1951 a Tunica (Mississippi). Dopo essersi laureata in Lettere presso il Rhodes College di Memphis da oltre vent'anni scrive opere di genere urban fantasy e mystery e i suoi libri sono frequentemente in testa alla classifica dei bestsellet del New York Times.
È sposata e madre di tre figli.
Tra i suoi successi, ricordiamo, in particolare ciclo di Sookie Stackhouse, che la Delos Books pubblica nella collana Odissea Vampiri finora composto da dieci romanzi, dal quale è stata tratta la serie TV True Blood, trasmesse anche in Italia. Grande successo ha anche ottenuto il ciclo di Harper Connelly, una donna in possesso di poteri paranormali, pubblicato nella collana Odissea Streghe.
Cosa ne pensate? Ne siete incuriositi?