Prezzo: € 18,00
Prezzo EBook: € 9,99
Editore: Sonzogno
Titolo Originale: The Greyfriar
Traduttore: S. Caraffini e G. Lupieri

Pagine: 367
Genere: Distopico, Steampunk, Historycal Romance


Le grandi e sfarzose capitali dell'era industriale sono diventate cimiteri. I pochi sopravvissuti hanno dovuto cercare rifugio ai Tropici, il cui clima torrido è nocivo alle grigie creature della notte. Così, dall'Egitto al Centro America, fino ai templi immersi nelle foreste della Malesia, sono sorte nuove civiltà del vapore e del ferro, fondate sull'arte e la tecnologia. Anno 2020. Quello che resta del glorioso impero britannico è ora il regno di Equatoria, la cui erede al trono è la principessa Adele, un'intrepida guerriera, ma anche una ragazza colta e raffinata, che trascorre intere giornate immersa nella lettura nei silenziosi saloni della mitica Biblioteca di Alessandria. La sua intraprendenza e il suo spirito indomito risveglieranno però la crudeltà di un efferato clan di vampiri decisi a scatenare una nuova guerra. In questa lotta all'ultimo sangue, Adele troverà al proprio fianco il principe Greyfriar, affascinante signore delle tenebre dal volto mascherato. E il misterioso protettore le rivelerà la vera natura del conflitto tra gli uomini e i non-morti, combattendo con lei una battaglia epocale per la vita e per l'amore.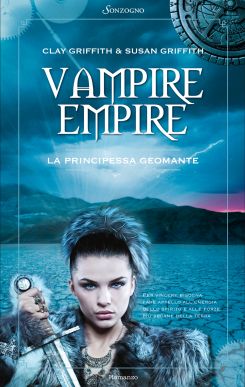 Vampire Empire
La Principessa Geomante
Prezzo: € 19,00
Prezzo EBook: € 9,99
Editore: Sonzogno
Titolo Originale: The Rift Walker
Traduttore: G. Lupieri

Pagine: 445
Genere: Distopico, Steampunk, Historycal Romance
Mentre le armate dei vampiri si apprestano a scatenare l'offensiva finale, l'amore tra la principessa Adele e Greyfriar, spadaccino mascherato, compromette l'alleanza di Equatoria con la Repubblica americana: scatena infatti le ire del vendicativo senatore Clark, al quale la giovane sovrana si è promessa in sposa. Ma Adele ha ormai preso la sua decisione: affronterà i nemici da sola, sfruttando l'antica arte della geomanzia e piegando al proprio volere le forze più arcane della terra. Affiancata dal vecchio saggio Mamoru, che l'ha introdotta nella sua potente setta segreta, e dall'indomito eroe mascherato, al quale si sente irresistibilmente avvinta, Adele risalirà il corso del Nilo e si avventurerà sulle misteriose Montagne della Luna. Qui la principessa guerriera è attesa da nuove sfide, dovrà sfuggire alle trappole del perfido Cesare e alle mogli combattenti dello spietato re Jaga, alleato con i più temibili clan dei vampiri.



Il mondo è considerevolmente cambiato: nel 1870 i vampiri hanno preso il sopravvento sugli umani costringendoli a scappare e dando inizio così al loro regno. Siamo nel 2020 e nel regno di Equatoria Adele, figlia dell'Imperatore, e suo fratello Simon durante un'attraversata in aeronave si ritrovano a vagare nelle terre desolate ,dopo essersi schiantai al suolo, braccati da un'orda di vampiri capeggiati da Flay. Ma la fortuna non ha abbandonato la principessa: sulle loro tracce c'è una figura leggendaria, un eroe d'altri tempi a cui sono state dedicate molte leggende, il cacciatore Greyfriar. Inizia così un romanzo ricco di personaggi a dir poco mozzafiato: partendo dalla protagonista, passando per la spietata Flay sino ad arrivare a Greyfriar, l'eroe più famoso dell'intero regno. Vampire Empire è una trilogia, qui in Italia ormai ferma al secondo romanzo, che incanta al lettore non solo per le magnifiche e dettagliate descrizioni dei luoghi ma anche per l'intreccio che mescola diversi stili tra i quali steampunk e distopico che solleticheranno anche i palati più esigenti. Adele è una principessa e come tale ha vissuto negli agi per anni: il ritrovarsi da sola, braccata e imprigionata cambierà radicalmente non solo il suo personaggio ma anche il modo in cui percepirà il mondo che la circonda. Al suo fianco forte e vigoroso si staglia Greyfriar che ha rapito il mio cuore sin dalle prime battute: il suo personaggio è avvolto nel mistero, cosa si cela sotto tutti quei vestiti? Cosa nasconde nel profondo del suo animo che vampiro che difende gli umani? Adele e Greyfriar sono due figure complesse in maniera diversa e dopo il loro primo incontro scopriranno che i loro destini sono irrimediabilmente legati. Se nel primo romanzo la Londra vittoria con i suoi cieli plumbei e le atmosfere pesanti la fanno da padrona nel secondo volume invece sarà il deserto del Nilo a fare da scenario alla vicenda. Ho apprezzato che gli antichi riti egiziani siano stati ripresi in modo tale da rendere ancora più coinvolgente la lettura del secondo volume in cui l'avventura lascia spazio ad una dimensione più intima ed introspettiva dei personaggi. Spero vivamente che la casa editrice decida di pubblicare l'ultimo e conclusivo romanzo: lasciare a bocca asciutta il lettore sarebbe davvero una perdita.


Durata della lettura: una settimana
Bevanda consigliata: tè alla cannella
Formato consigliato: cartaceo
Età di lettura consigliata: dai 16 anni


"Un mondo tutto da scoprire..una principessa guerriera da amare."

Clay Griffith americano, insieme alla moglie Susan Griffith scrive da dieci anni, da quando si è sposato. Autore di fumetti cult (The Tick e Allan Quatermain) e narrativa di genere, vive nel North Carolina con il fedelissimo gatto, e sogna i magnifici paesaggi della Scozia che hanno ispirato molte delle ambientazione di Vampire Empire.


Trilogia Vampire Empire

1. The Greyfriar -Vampire Empire. Il Principe di sangue nero
2. The Rift Walker - Vampire Empire. La Principessa Geomante
3. The Kingmakers - ?
E voi cosa ne pensate? Siete incuriositi?