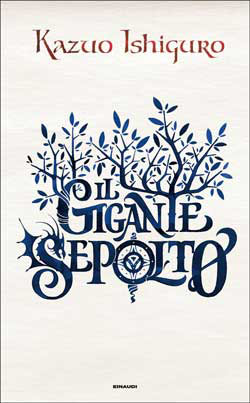 Il Gigante Sepolto
di Kazuo Ishiguro

Prezzo cartaceo: € 20,00
Prezzo E-Book: Non Disponibile
Titolo Originale:
The Buried Giant
Editore: Einaudi
Pagine: 313
Genere: Fantasy, Mitologico
Per il suo settimo romanzo Ishiguro torna ai temi a lui da sempre cari – la fallibilità e il ruolo della memoria, la dimensione onirica e quella nostalgica dell'esistenza, il dolore della vecchiaia e della perdita – ma lo fa qui scegliendo una forma inedita e quanto mai sorprendente.

«Un'intensa indagine sulla memoria e sulla colpa, ma anche un racconto di straordinarie atmosfere, una storia di travolgente leggibilità da divorare tutta d'un fiato. Un romanzo doloroso e bellissimo sul dovere del ricordo e il bisogno dell'oblio». Alex Preston, The Guardian

Il leggendario re Artù è morto ormai da qualche tempo ma la pace che egli ha imposto sulla futura Inghilterra, dilaniata per decenni dalla guerra intestina fra sassoni e britanni, seppure incerta, perdura. Nella dimora buia e angusta di Axl e Beatrice, tuttavia, non vi è pace possibile. La coppia di anziani coniugi britanni è afflitta da un arcano tormento: una sorta di inspiegabile amnesia che priva i due di una storia condivisa. A causarla pare essere una strana nebbia dilagante che, villaggio dopo villaggio, avvolge indistintamente tutte le popolazioni, ammorbandole con i suoi miasmi. Axl e Beatrice ricordano di aver avuto un figlio, ma non sanno più dove si trovi, né che cosa li abbia separati da lui. Non possono indugiare oltre: a dispetto della vecchiaia e dei pericoli devono mettersi in viaggio e scoprire l'origine della nebbia incantata, prima che la memoria di ciò a cui più tengono sia perduta per sempre. Lungo il cammino si uniscono ad altri viandanti – il giovane Edwin, che porta il marchio di un demone, e il valoroso guerriero sassone Wistan, in missione per conto del suo re – e con essi affrontano ogni genere di prodigio: la violenza cieca degli orchi e le insidie di un antico monastero, lo scrutinio di un oscuro barcaiolo e l'aggressione di maligni folletti, il vetusto cavaliere di Artù Galvano e il potente drago Querig. Giungono infine in vista della meta, e qui li attende la prova più grande: saggiare la purezza del proprio cuore.
L'inghilterra può vivere finalmente in pace grazie a re Artù : dopo anni di guerre che hanno fatto sanguinare la terra ed i suoi abitanti lasciando cicatrici grandi come montagne ora la serenità e la tranquillità regnano sovrane- In una piccola casetta vivono due sposi Axl e Beatrice ormai anziani si aggirano per le stanze come l'eco della loro gioventù svanita, ogni sussurro sembra parlare di un figlio ormai disperso ed ogni sguardo porta con sè il ricordo di chi sono stati. Una nebbia incantata aleggia sulle terre e nella loro memoria annebiando i ricordi e rendendo vano ogni tentativo di ricordare e così, senza indugiare oltre sull'età , decidono di partire alla ricerca della verità per scoprire da dove nasca questa coltre. Il gigante sepolto è un romanzo a metà tra il fantasy ed il mitologico ricco di elementi intriganti e di posti surreali: sin dalle primissime battute il lettore è incuriosito dal mistero che avvolge questi due sposi. Come sanno gli amanti del genere letterario orientale lo stile narrativo è molto diverso rispetto a quello che siamo abituati a leggere: la storia ha bisogno di tempo per svilupparsi, nessuno corre e soprattutto nulla viene anticipato anzitempo. I personaggi che compongono questo romanzo quasi epico sono due figure esili quasi scomparse che decidono a tutti i costi di ricordare mettendosi alla ricerca di loro stessi e della loro storia. Inutile dire quanto Ishiguro sia stato magistrale nel tessere una trama che trae ispirazione da poemi epici come il Beowulf e che incanta il lettore grazie alle creature incantate che popolano le sue pagine, l'unica pecca di tutta la narrazione è che a tratti risulta poco convincente, si perde un pò il filo della narrazione che diventa improvvisamente lenta. A parte queste piccolissime parti questo romanzo è una perla di rara bellezza ed inventiva narrativa, dedicata a chi vuole sognare.
Durata totale della lettura:
due giorni
Bevanda consigliata:
Tè all'arancia
Formato consigliato: cartaceo
Età di lettura consigliata: dai 16 anni