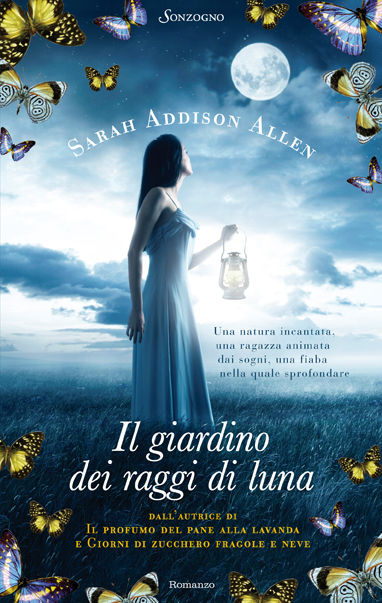 Il giardino dei raggi di luna
di Sarah Addison Allen


Prezzo di copertina:
€ 18,00
Editore:
Sonzogno
Pagine:
256
Formato:
Brossura
Lingua:
Italiano
Lingua originale:
Inglese
Titolo originale:
The Girl Who Chased the Moon
Traduzione:
R. Marasco
Genere:
Letteratura straniera
L'amore rende magiche le cose più semplici. Così il profumo di una torta può attraversare gli oceani, e far tornare colui che se n'era andato per sempre
Emily ha diciassette anni, è appena rimasta orfana, e parte per Mullaby, il paesino del Nord Carolina dove la madre era nata. Spera di scoprire laggiù alcuni misteri sulla propria famiglia. Ma la attendono molte sorprese Arrivata nella casa del nonno, l'intraprendente Emily si accorge ben presto che gli abitanti di Mullaby si guardano bene dall'aiutarla. Anzi, i vecchi conoscenti della madre sembrano volerla evitare, come se il suo nome fosse avvolto da un malefi cio. E mentre Mullaby finge una vita tranquilla, Emily realizza che i misteri e le stranezze sono all'ordine del giorno – stanze dove la carta da parati cambia a seconda dell'umore di chi la guarda, un uomo gigante "così alto da riuscire a vedere ciò che accadrà domani", strani fasci di luce che spazzano i cortili a mezzanotte. E una bizzarra vicina, Julia, con le braccia piene di cicatrici, che sforna in continuazione biscotti davanti alla finestra spalancata. Come mai nessuno vuole rammentare gli anni della giovinezza della madre di Emily? E cos'è quella storia d'amore, di cui si parla a mezza voce, che ha spezzato il cuore e la vita di un giovane del paese? La verità non è quella che Emily si aspettava. Perché in quel paese di curiose stramberie, dove il tempo scorre più lentamente che in ogni altro luogo, la fortuna sorride a chi sa assaporare il lato magico della vita.
Forse io sono di parte, perchè adoro questa autrice e ho letto ogni suo romanzo. Questo libro, ovviamente non mi ha deluso. Mi è piaciuto molto. La storia in sè può apparire un pò banale e surreale, ma le altre storie secondarie e la magia che l'autrice sà mettere nello scrivere rendono il libro proprio un bel romanzo. Emily si ritrova in questo paesino del Nord Carolina a casa del nonno con tutti i disagi e l'imbarazzo di una ragazza appena arrivata in un posto per lei nuovo e sconosciuto nonostante quel luogo sia la casa dove sua madre era cresciuta. Il nonno mi è sembrato tanto come il GGG di Roald Dahl, un grande gigante gentile, che nonostante la sua stazza è in difficoltà nell'approcciarsi con una nipote che non ha mai visto prima e che rappresenta un pò il ricordo del suo passato e di sua figlia che ha visto andare via tanto tempo prima a causa dell'evolversi di misteriosi eventi. In questa nuova cittadina Emily incontra subito Julia, una ragazza che cucina torte, che cerca subito di farla sentire a suo agio nonostante anche lei sia perseguitata da fantasmi del passato, con i quali le toccherà fare i conti, superando insicurezze e momenti bui che si è sempre portata dietro. Poi arriva Win, un ragazzo misterioso, facente parte di una facoltosa famiglia, che di sera non può uscire alla luce della luna. Emily rimane affascinata fin da subito da Win e tra i due sembra esserci un legame che scopriranno avere radici in un tempo lontano che vede protagonisti la madre di Emily e lo zio di Win. Insieme i due ragazzi verranno a capo della storia misteriosa che aleggia nella città di Mullaby e della quale tutti gli abitanti sembrano non volerne parlare. Sarà importante lasciare indietro il passato ed essere pronti ad affrontare un futuro che profuma di dolci e cambia in continuazione come la carta da parati nella casa di Emily. Un libro che si legge tutto di un fiato, ricco di magia, di profumi e sapori ben miscelati nelle storie dei protagonisti come solo la Allen sà fare. Un libro nel quale rifugiarsi, come dico sempre, per sfuggire alla realtà, anche se solo per un paio d'ore. Consigliatissimo.
Durata totale della lettura:
cinque giorni
Bevanda consigliata: Coca Cola
Età di lettura consigliata:
dai 16 anni
"Una storia magica che profuma di torta appena sfornata"
Con uno stile originalissimo e un pizzico di magia, ancora una volta la Allen ci regala una fiaba moderna che si legge tutta d'un fiato
PUBLISHERS WEEKLY
La sensibilità e dolcezza di questa autrice non smettono di incantare
Sarah Addison Allen
è nata e cresciuta nel North Carolina. Dopo aver scritto sotto pseudonimo numerosi romanzi rosa, ha raggiunto il successo internazionale con "Il profumo del pane alla lavanda" e "Giorni di zucchero, fragole e neve", in vetta alle classifiche USA e tradotti in 15 lingue.