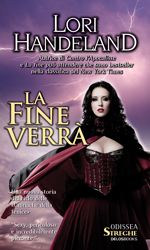 La Fine Verrà
di Lori Handeland
Prezzo di copertina: € 15,90
Editore: Delos Books
Pagine: 335
Formato: Brossura
Lingua: Italiano
Lingua originale: Inglese
Titolo originale:
The End of Eternity
Traduzione: L. Volpino
Genere:
Urban Fantasy e Paranormal Romance
Elizabeth Phoenix è tra i pochi eletti in grado di combattere coloro che sono fuggiti dal livello più oscuro alla riconquista definitiva della Terra. Liz è decisa a fermare un'altra Apocalisse. Ma questa volta sarà più difficile che mai, perché qualcuno che lei riteneva morto non lo è più... ed è deciso e determinato a distruggere Liz e chiunque lei ami. Ma è in grado di controllare la tenebra dentro di sé? Liz è arrivata a Los Angeles per stanare un covo di varcolac: creature metà umane, metà drago che desiderano la distruzione di Sole e Luna. Ma prima di poter impedire l'eclisse che porterà il mondo alla sua fine, Liz deve scavare nelle profondità del suo stesso cuore. Lei e il suo ex amante Timmy Sanducci devono combattere alcuni demoni personali - e c'è sempre il loro maestro, lo sciamano Navajo Sawyer. Lui è dalla loro parte... o forse no? Alla fine, i tre devono trovare un modo di combattere insieme... o morire soli.
Dopo un'estenuante lotta nel precedente capitolo che l'ha portata ad "abbracciare le tenebre, Liz ora si trova nel bel mezzo della ricerca del Libro di Salomone l'unico libro che potrà aiutare la Luce a chiudere il Tartaro impedendo l'Apocalisse. Ora che ha di nuovo al suo fianco Sanducci la battaglia contro il Male sembra più equilibrata: peccato che il loro rapporto non lo sia altrettanto. In un escaltion di colpi di scena e di battaglie Liz troverà molte risposte sul passato ma molte altre domande nasceranno a proposito del futuro del mondo. Dopo un primo libro davvero mozzafiato devo ammettere di aver trovato il secondo un pochino più lento e meno esplosivo, ma questo terzo capitolo mi ha fatta davvero ricredere: rivelazioni eclatanti e una Liz in perfetta forma piena di brio e di sarcasmo hanno reso la lettura davvero intrigante. La trama diventa sempre più intricata rendendo estenanuante l'attesa del prossimo volume per sapere che cosa combinerà la protagonista. Anche in questo libro Liz viene messa duramente alla prova, non solo dal punto di vista fisico ma anche i suoi sentimenti sono sotto una lente di ingradimento. Essre il Comandante della Luce non è facile: nel suo percorso la protagonista ha dovuto fare delle scelte davvero difficili, mettendo al primo posto non sè stessa ma il benessere dell'intera umanità. Il triangolo amoroso, se così possiamo chiamarlo, tra lei Sanducci e il versipelle Sawyer diventa sempre più complicato e sensuale. I colpi di scena sono davvero all'ordine del giorno e l'autrice riesce a rendere la trama sempre più interessante di volume in volume.
The Phoenix Chronicles
1. Any Given Doomsday, 2008 (Contro l'Apocalisse, 2011)
Qui
la mia recensione
2. Doomsday Can Wait, 2009 (La Fine Può Attendere, 2011)
Qui
la mia recensione
3. Apocalypse Happens, 2009 (La Fine Verrà, 2012)
4. Chaos Bites, 2010
Durata della lettura:
tre giorni
Bevanda consigliata:
succo al mirtillo
Età di lettura consigliata:
dai 18 anni
"Liz è disposta a tutto pur di salvare la terra...ma basterà?"
Lori Handeland
è ha passato anni facendo svariati mestieri, insegnando e gestendo uno studio fotografico prima di vendere il suo primo romanzo nel 1993. Da allora con i suoi libri ha riscosso consensi in diversi generi di narrativa: contemporanea, storica e paranormale. Ha ricevuto molti premi, soprattutto il Rita Award che viene assegnato annualmente dall'associazione degli scrittori americani (Romance Writers of America) per il suo romanzo Blue Moon, nominato Miglior Romanzo Paranormale del 2004.
Lori vive nel Wisonsin con suo marito, due figli adolescenti e un labrador di nome Elwood. Può essere contattata tramite il suo sito www.lorihandeland.com dove ci si può unire al Club della Luna Piena e ricevere una newsletter mensile, all'incirca quando c'è la luna piena, con spaventosi lupi mannari, fatti divertenti riguardanti la luna piena, ricette, estratti di libri e altro.