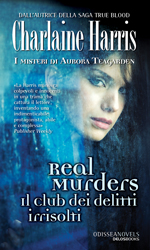 Real Murders - Il Club dei Delitti Irrisolti
Prezzo di copertina: € 14,90
Editore: 234
Formato: Brossura
Lingua: Italiano
Lingua originale: Inglese
Titolo originale: Real Murder
Traduzione: A. Guarnieri
Una serie di assassinii, modellati a imitazione di altrettanti omicidi celebri, si verifica nella piccola comunità di Lawrenceton. La ventottenne Aurora (Roe) Teagarden, di professione bibliotecaria, fa parte del club Real Murders, un gruppo di 12 appassionati che si riuniscono per studiare crimini famosi, sconcertanti o irrisolti. Poco prima che la riunione mensile abbia inizio, Roe scopre il corpo massacrato di un membro del club, e si rende conto che il modo in cui la vittima è stata uccisa imita quello usato proprio nell'omicidio riguardo al quale lei avrebbe dovuto parlare quella sera... improvvisamente la sua vita di investigatore da salotto assume una macabra connotazione reale.
Aurora è una semplice bibliotecaria con un hobby particolare: gli omicidi di tutte le epoche. Insieme ad altri appasionati fa parte del gruppo Real Murders che, una volta al mese, si riunisce per discutere di un famoso caso. Le regole e le vite di questi "appasionati" però stanno per essere sconvolte quando una di loro viene trovata morta. Chi mai può aver emulato un vecchio omicido? Il ciclo di libri dedicato ad Aurora è nato nel 1990 e non ritroviamo l'impronta fantasy paranormal classica dei libri che conosciamo. La giovane Aurora non è un'investigatrice di professione ma solo una dolce curiosona che si ritroverà nel bel mezzo di un'indagine da cui, da sola, riuscirà a tirarsene fuori. Volente o nolente la protagonista seguirà come un segugio gli indizi per smascherare il killer che si sta prendendo gioco del club Real Murders. Una protagonista davvero spumeggiante con cui è subito amore: impacciata con gli uomini ed innamorata del suo lavoro, Aurora riuscirà a far breccia nel cuore dei suoi lettori. Inutile paragonarla alle altre protagoniste della Harris: in questi romanzi non c'è traccia di creature fantasy ma solo il buon vecchio fiuto per gli indizi. Siccome la scrittura di questo ciclo di romanzi risale al 1990 non troverete la tecnologia moderna così come le indagini si svolgeranno alla "vecchia maniera" senza l'utilizzo di sofisticate attrazzature forensi. Inutile resistere alla tentazione di leggere questa serie, la sua protagonista e i "suoi" casi vi conquisteranno.

Serie Aurora Teagarden
Real Murders (1990) Real Murder Il club dei delitti irrisolti (2012)
A Bone to Pick (1992)
Three Bedrooms, One Corpse (1994)
The Julius House (1995)
Dead Over Heels (1996)
A Fool And His Honey
Last Scene Alive (2002)
Poppy Done to Death (2003)
Durata della lettura:
due giorni
Bevanda consigliata:
succo alla mora
Età di lettura consigliata:
dai 18 anni
"Una semplice bibliotecaria che si trasformerà in una giovane Sherlock Holmes!"
Charlaine Harris è nata nel 1951 a Tunica (Mississippi). Dopo essersi laureata in Lettere presso il Rhodes College di Memphis da oltre vent'anni scrive opere di genere urban fantasy e mystery e i suoi libri sono frequentemente in testa alla classifica dei bestsellet del New York Times.
È sposata e madre di tre figli.
Tra i suoi successi, ricordiamo, in particolare ciclo di Sookie Stackhouse, che la Delos Books pubblica nella collana Odissea Vampiri finora composto da dieci romanzi, dal quale è stata tratta la serie TV True Blood, trasmesse anche in Italia. Grande successo ha anche ottenuto il ciclo di Harper Connelly, una donna in possesso di poteri paranormali, pubblicato nella collana Odissea Streghe.