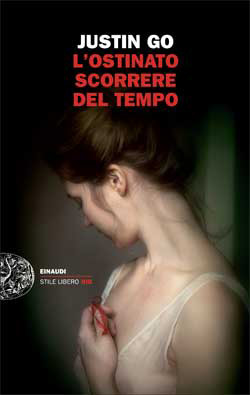 L'Ostinato Scorrere del Tempo
di Justin Go

Prezzo cartaceo: € 21,00

Prezzo E-Book: € 9,99
Titolo Originale:
The Steady Running of the Hour
Editore: Einaudi
Pagine: 563
Genere: Narrativa Moderna
Imogen Soames-Andersson e Ashley Walsingham si sono conosciuti a Londra nel 1916. Il loro tempo insieme è durato un battito d'ali, travolto dalla guerra e dalle convenzioni di un mondo al crepuscolo. I frammenti di questo amore, che ha resistito al distacco, sono sparsi ovunque, nascosti fra l'Inghilterra e le pendici dell'Himalaya, Parigi, Berlino e la Svezia. Molti anni dopo uno studente americano li cerca per trovare il filo che lo lega a Imogen e Ashley, e all'immenso patrimonio custodito da uno studio legale in attesa che qualcuno dimostri di esserne il legittimo erede. Per riuscirci ha soltanto due mesi.
Tristan si è appena laureato e ancora non sa cosa dove andrà a lavorare o cosa farà del suo tempo ora, sa solo che ha ricevuto una lettera da Londra e che la telefonata che sta per fare non sarà una casualità. Lontano negli anni, nel 1916 per l'esattezza Ashley ed Imoges si sono incontrati durante una conferenza sull'alpinismo: i loro sguardi li hanno legati ad un destino che li porterà a bussare alla porta del tempo di Tristan. Cosa si nasconde nel passato? Tristan è pronto a scoprirlo. Justin Go aveva un buon lavoro in un ufficio, un lavoro da scrivania che non lo ha mai fatto sentire realizzato, un giorno ha deciso di prendere in mano le redini della sua vita e si è licenziato ed è partito per Berlino alla ricerca del suo personaggio Tristan. Non è una storia da romanzo ma è la storia dell'autore che ha avuto il coraggio di mollare un lavoro retribuito per inseguire la sua vera vocazione, e personalmente lo ammiro moltissimo. Il romanzo si snoda su due tempi diversi il presente ed il 1916 ed i protagonisti, sebbene lontani per spazio e tempo, interagiscono tra loro creando una trama fitta di avvenimenti e di descrizioni. Il messaggio che il lettore riceve da questa storia è il significato stesso della vita ed il suo scopo, quello stesso scopo che porta un uomo ad amare una donna per sempre nonostante non la vedrà mai più. Il finale lascia il lettore a bocca aperta, l'autore stesso lo ha definito "aperto" citando una frase di Hemingway: la storia è in mano nostra, nostro sarà il finale. Una scelta difficile e controversa ma che secondo me poteva essere gestita meglio, dopo 563 pagine poteva arrotondare a 600 dando più spazio al finale. I protagonisti del romanzo sono tridimensionali, vivi e palpitanti: l'avventura di Ashley in guerra nella battaglia di Somme e poi sull'Everest, la ricerca spasmodica della verità di Tristan e la figura ammaliatrice di Imogen vi conquisteranno, li amerete senza riserve.
Durata totale della lettura:
tre giorni
Bevanda consigliata:
Tè al pompelmo
Formato consigliato: EBook
Età di lettura consigliata: dai 16 anni