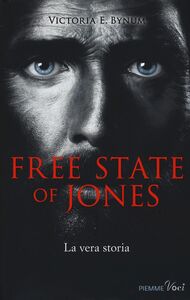 Free State of Jones
di Victoria E. Bynum
Editore:
Piemme
Prezzo Cartaceo: € 18,50
Prezzo E-Book: € 9,99
Pagine: 338
Titolo Originale: The Free State of Jones
Genere: Narrativa, Romanzo Storico
Quando l'ingiustizia diventa la norma, solo un fuorilegge può fare giustizia. «Potente e necessario, "Free State of Jones" è una superba ricostruzione storica.» - The Washington Times «Un libro significativo, ma molto faticoso, intricato e minuzioso com'è, che traccia la vicenda dei ribelli fin dai loro antenati che si batterono contro i piantatori nelle rivolte settecentesche in Carolina del Nord.» – Tiziano Bonazzi, La Lettura del Corriere della Sera Nel mondo in cui è nato Newton Knight, l'onore di un uomo si misura sul numero di schiavi di sua proprietà. Suo nonno Jackie è uno degli uomini più onorevoli del Mississippi, a metà dell'Ottocento. Nel mondo di Newton Knight, i neri devono stare al loro posto e non alzare mai la testa. Non sono permessi matrimoni misti, ma nulla vieta al padrone bianco di approfittare delle sue schiave. Ci vuole uno spirito molto ribelle per non adeguarsi a quello che è considerato l'ordine naturale delle cose. E prima di diventare un fuorilegge a capo di una banda di disertori, Newton Knight è stato un ribelle. Non ha simpatia per la schiavitù, né per le ingiustizie. E ha capito che le barriere tra bianchi e neri non sono così rigide. E si possono spezzare. Amando Rachel, per esempio, una delle schiave del nonno. Allo scoppio della guerra di Secessione, Newton decide di ribellarsi alle violenze dell'esercito confederato, a cui appartiene, e di disertare. Altri uomini si uniscono a lui e, con il sostegno di schiavi e di bianchi antischiavisti, Newton dichiara la contea di Jones indipendente e dà inizio alla prima comunità mista del Mississippi. Nel momento di maggiore divisione dell'America, mentre intorno infuria una sanguinosa guerra civile, nella contea di Jones uomini e donne, bianchi e neri, combatteranno insieme per la libertà e la giustizia.
Dimenticate Rossella O'Hara ed i grandi combattenti del Sud che trasudavano onore, in questa ricostruzione storica l'autrice con dovizia di particolari mette sul piatto una storia del tutto diversa. Siamo nella piccola contea di Jones dove un piccolo manipolo di uomini capitanato dal sudista Newton Knight ha preso in mano il potere e ha deciso di combattere li Confederati dall'interno, aiutando così l'Unione. Un'interessante trattato storico che porta il lettore in uno spaccato americano ben lontano dal mondo patinato di Hollywood dove il colore della pelle costituiva non solo un problema ma anche un marchio indelebile che sarebbe rimasto impresso nelle generazioni a venire, soprattutto quando si parla di famiglie miste. Una guerra epocale che segnò un cambiamento radicale sia politico che sociale quella tra il Nord ed il Sud che in questa pagine viene analizzata senza troppi preamboli: una mossa strategica organizzata dalle alte sfere che però è stata pagata dal sangue e dalla pelle dei poveracci che hanno combattutto. Il tema razziale è centrale ed è interessante per il lettore non solo riflettere ma anche imparando una lezione di storia che non viene menzionata dai libri, che è stata taciuta e nascosta per troppo tempo e che grazie allo studio di Victoria E. Bynum è arrivata sino a noi. Non importa quanto sia lontano nel tempo o geograficamente, un evento del genere deve essere una lezione per tutte le generazioni, per imparare dagli errori commessi sperando di non ripeterli in futuro.
Durata totale della lettura: due giorni
Bevanda consigliata: Tè alla menta
Formato consigliato:
cartaceo
Età di lettura consigliata:
dai 17 anni
"Una Ricostruzione storica che porta alla luce una parte di storia americana che non deve essere dimenticata !"