Buon Giovedì cari lettori e ben arrivati sulla nostra pagina che oggi ospiterà una tappa dedicata a questo nuovo bellissimo romanzo in arrivo in tutte le librerie oggi.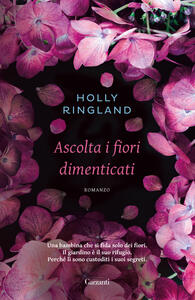 Ascolta i fiori dimenticati
di Holly Ringland
Editore: Garzanti
Prezzo cartaceo : € 17,90
Prezzo ebook: € 9,99

Pagine: 384
Genere: Narrativa Moderna
Una bambina che si fida solo dei fiori. Il giardino è il suo rifugio. Perché lì sono custoditi i suoi segreti.


«La storia affascinante di una giovane ragazza che grazie ai fiori trova il proprio posto nel mondo. Una scoperta che ha conquistato gli editori internazionali.»

-

The Bookseller



«Un romanzo su tutti i modi che troviamo per prenderci cura di noi stessi. Raffinato e magistralmente scritto.»

-

Courier Mail



«Splendido.»

-

The Australian



Alice ha appena nove anni quando la sua vita cambia per sempre: tutto quello che conosce sparisce in una manciata di istanti, lasciandola sola. Senza nessuno su cui poter contare. È per questo che sceglie di non parlare più e di fare del silenzio il suo unico confidente, incapace di tradirla. D'ora in poi a prendersi cura di lei ci sarà nonna June, di cui nemmeno sospettava l'esistenza. Con entusiasmo la donna insegna ad Alice ad ascoltare i fiori e a impararne i significati nascosti. Quei fiori, col tempo, diventano le parole, delicate come petali ma forti come radici, con cui dà voce ai sentimenti che nessun altro linguaggio saprebbe comunicare con altrettanta intensità. Il giglio per l'amore che accoglie e protegge. Le campanule gialle per lo stupore che accompagna le novità. L'orchidea nera per i desideri che bruciano in fondo al cuore. Perché solo qui, nel giardino della nonna, Alice si sente davvero al riparo dai ricordi dolorosi del passato, cullata dalla voce dei fiori, con i quali intreccia meravigliose ghirlande che diventano doni per parlare all'anima e curarne le ferite. Ma quelle che macchiano il cuore di Alice sono ancora lì, nonostante tutto: chiedono a gran voce di essere ricucite, ma finora nessun fiore è stato in grado di lenirle. Quando il passato ritorna più impetuoso di prima e le parla di segreti che devono essere svelati, Alice sa che non può più far finta di niente. Deve tornare dove tutto è cominciato per portare alla luce la verità. E scoprire che non è sola come ha sempre creduto. Che c'è qualcuno ad aspettarla. Solo così potrà decidere dove mettere le radici, come un fiore che cresce vigoroso dopo la tempesta. In corso di traduzione in oltre 25 paesi, Ascolta i fiori dimenticati è un caso editoriale unico che ha conquistato gli editori di tutto il mondo, pronti a un grandioso lancio globale. Un romanzo coraggioso e toccante sulla forza che si nasconde dietro l'amore più sorprendente: spesso non crediamo possa esistere e invece irrompe nella nostra esistenza quando meno ce lo aspettiamo, regalandoci la speranza di una nuova vita e di una rinascita senza compromessi.
Come potete notare oggi vi parlerò dell'importanza delle proprie radici...
Alice sa che sua mamma Agnes quando è nel giardino insieme ai fiori diventa un'altra persona, la paura che le vela gli occhi svanisce e la sua voce sussurra parole mai ascoltate prima. Alice sa che in suo papà esistono due persone diverse, non sempre Clem è un mostro: quelle stesse mani che sanno essere vendicative e lasciano lividi su di lei e su sua madre sanno anche creare con il legno una scrivania meravigliosa. Alice ha capito molte cose nonostante abbia solo nove anni, sa che al mondo esistono solo loro tre anzi quattro se contiamo il bimbo che cresce nella pancia della mamma ma quando un incendio si porta via i suoi genitori Alice scopre che le sue radici sono legate ad una nonna di nome June ed ad un mondo fatto di fiori. Come sarebbe la nostra vita se non avessimo radici? Se non appartenessimo a nessun luogo in particolare? Se i nostri antenati non fossero mai esistiti la nostra vita ora sarebbe diversa? I nostri passi ci avrebbero condotti altrove? Sia per Alice che per Flowers che si dedicano ai fiori insieme a June le proprie radici spesso sono legate a ricordi dolorosi, per alcune invece queste radici non esisteranno mai perché sono state abbandonate da piccola. Non importa quanto lontano una persona possa scappare, non importa neppure non avere nessun ricordo dei propri genitori il richiamo del passato e delle proprie radici scorre sottopelle, si insinua nel cuore e nella mente e diventa parte integrante dell'essere umano. Alice ha perso i genitori le uniche persone che si sono sempre prese cura di lei, le uniche persone che ha conosciuto ed ora si ritrova con una nonna della quale ignorava l'esistenza in un posto lontano dal mare dove i fiori sussurrano e sanno parlare anche quando le parole mancano o non voglio uscire dalla gola. Piano piano il romanzo ci mostra non solo la fragilità della protagonista costretta a subìre in prima persona le violenze del padre, ma ci fa conoscere tante altre storie che parlano di dolore, di radici che come quelle dei fiori scavano nel terreno, dal quale traggono nutrimento così loro dal loro passato seppur doloroso traggono la forza di andare avanti, di rinascere più colorate e meravigliose.